End gang violence: Changing a violent community? Start with a barber chair
(Read article summary)
Trimming levels of gang and street violence is tough, but in Virginia a group of brothers started holding gun trade-ins and Unity Walks in rough neighborhoods to give the community a new look. How do you get people to show up? Hair cuts.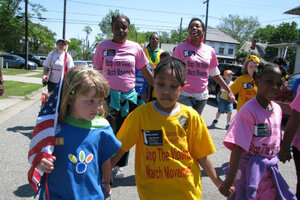 Courtesy of Tony Holobyte
Right now in the crime-ridden, gang-infested section of Newport News, Va. someone who perpetuates that violence is getting a free haircut. Terry Riddick is giving the haircut, but his goal is to cut down on gun and street violence by building relationships to draw offenders to the Unity March where they will hand in their guns, get counseling, and rejoin their community.
For the past eight years, Mr. Riddick and his brothers, Wilson and Randy, all barbers, have held Unity Walks in cities where the amount of violence make it necessary. The walks are held in memory of Riddick's cousin, Eric E. Ralph. According to Riddick, his cousin chose a life of violence and crime and died at age 28 when he pulled a gun on someone at a 7-11 who he didn't realize was armed. "He was one of those people who didn't listen," Riddick told the Monitor. "He spent his time prior to that in and out of jail and gang violence."
"We set up a campsite with counselors, FBI, mentors, and we walk from a point about four miles away through the neighborhoods and to the site," Riddick said. "People come out and they join us. Gang members come out and hand in their guns. We collected 25 guns over the last couple walks. If they want a free haircut at the end, they have to get a stamp or wrist band from each and every table to show they got the help."
Lorenzo Sheppard, Newport News' assistant chief of police, said, "We have worked with Terry Riddick before. We all know about the free haircuts he gives and the mentoring he is able to do as well while those haircuts are happening. He does a lot of good in the community and we will be there for whatever they need with this event."
---