Eastwood daughter wedding OK'd by Dad, but couples often buck the tradition
(Read article summary)
Eastwood daughter wedding: Clint Eastwood's daughter's wedding took place this weekend. Alison Eastwood's fiance Stacy Poitras asked Dad, the gun-slinging actor, for his permission, as is custom. Or is it?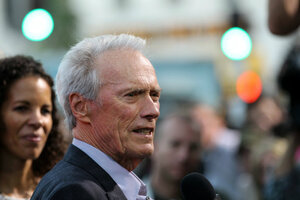 Matt Sayles/Associated Press
Clint Eastwood celebrated his daughter's wedding this weekend, according to a number of news sources. His daughter, Alison Eastwood, married Stacy Poitras — an outdoorsy, lumberjack archetype. Mr. Poitras is known for making sculptures with chainsaws.
Poitras decided to ask Mr. Eastwood, the star of shoot 'em up movies like "The Good, the Bad, and the Ugly" and "Dirty Harry," for his daughter's hand in marriage. No report published about the wedding so far has failed to include, usually as the article's conclusion, Eastwood's response.
"He looked at me for four or five seconds, which felt like 15 minutes, and then he said, 'You're going to have to take that up with her,'" Poitras told Westlake magazine last year. "I said, 'Is that a yes or a no?' And he said, 'That's a yes,' and he shook my hand."
With marriage customs constantly in flux, the tradition of asking a father for his daughter's hand in marriage seems unshakable. But is it?
A study reported by The Associated Press in 2007 showed that 73 percent of men said asking a father's permission to marry his daughter is necessary while 68 percent of women said it was not necessary to ask their fathers.
A report published in The Christian Science Monitor in 2003 describes the changes that popping the question to the wife-to-be's parents has gone through over time.
While some couples interviewed, regardless of age, considered the question a legitimate step in the marriage process, others considered it a formality, they rejected it outright, or, within the context of divorce, multiple parental figures, and changing gender roles, confusing.
---