Steubenville rape trial: How can I raise my boy not to rape, nor be a bystander?
(Read article summary)
The Steubenville rape trial ended Sunday with two guilty perpetrators, but that's not the whole story. Many other boys stood by, doing nothing. How can we teach our boys that the latter is also shameful?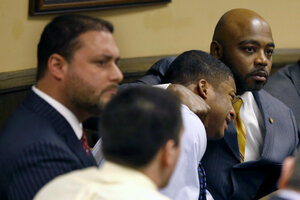 Keith Srakocic/Associated Press
In the Steubenville, Ohio, rape trial, the social and digital media trail proved that many boys were complicit in the rapes of Jane Doe — not just the two who were found guilty. Chillingly, these boys seem like they could be anyone's son. As a result, today, many parents are asking: How can I raise my boy the right way — to become a young man who will neither rape nor be a casual bystander to rape?
It's an important question to ask, but a difficult one to answer. The Steubenville boys' families likely thought they were doing a great job raising their sons. But something is wrong with our society: girls are so sexualized and dehumanized by our culture that unless it is directly and regularly addressed at home, boys can easily internalize the attitude that girls are sub-human; Sex objects, rather than respectable subjects. And as the Steubenville case shows, once this attitude is internalized, boys think raping girls is not the problem, but rather getting caught. Consider even the judge's words, which according to an AP report betrayed this kind of perspective:
"In sentencing the boys, Lipps urged parents and others 'to have discussions about how you talk to your friends, how you record things on the social media so prevalent today and how you conduct yourself when drinking is put upon you by your friends.'"
---