Bo Obama asked out by lady Goldendoodle to Oregon dog fundraiser
(Read article summary)
Bo Obama, the gentlemanly dressed First Dog, was asked by a Goldendoodle named Ramona to escort her to the Portland, Ore., Doggie Dash fundraiser for the Oregon Humane Society. Ramona addressed Bo Obama in a YouTube video and wrote the FDOTUS a letter.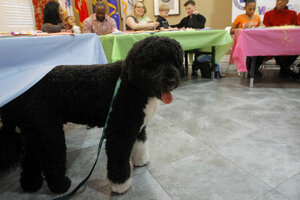 Gary Cameron / Reuters
Bo Obama is a catch.
Owned by a presidential family, from the same litter as former-Sen. Ted Kennedy's dog Cappy, and, like The Washington Post's Manuel Roig-Franzia wrote, he's a debonair gentleman: "[He's got tuxedo-black fur, with a white chest, white paws and a rakish white goatee."
So it's easy to see why, considering the spate of celebrities being asked to Prom through rambunctious high schooler-led social media campaigns, Bo would not be left out. Enter a doting Goldendoodle from Oregon, who targeted America's favorite coiffed canine in a YouTube video requesting his escort to the Oregon Humane Society's 26th annual Doggie Dash fundraiser.
Bo would be made the Grand Marshal and lead some 4,000 dogs and their humans on a parade along the Willamette River in Portland, Ore.
The YouTube video shows the Goldendoodle, named Ramona, looking lovesick and lonely. And then Crayola crayon outlined thought bubbles appear above her head, "Oh no!! I don't have a date for Doggie Dash!"
A picture of Bo, framed inside a floating heart, appears above a hopeful name: Mrs. Ramona Obama, First Dog-Lady.
---