$338M Powerball win shows odds stacked against kids who need child support
(Read article summary)
New Jersey Powerball winner Pedro Quezada owes $29,000 in child support. Though winning the lottery is a statistical rarity at 1 in 75 million, being a parent with child support back dues is not. In 2011, 12 percent of Americans were owed child support and did not receive it.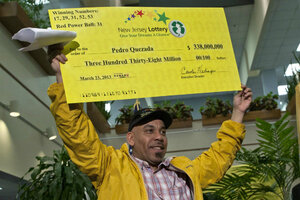 Eduardo Munoz/Reuters
What are the odds that New Jersey's $338 million Powerball lottery winner and father of five, Pedro Quezada, turns out to be wanted for failure to pay $29,000 in child support? While it was a 1 in 175 million chance of being the only winner of the massive Powerball jackpot, there's a significantly greater chance of being one of the 11.5 million cases of custodial parents reportedly in need of child support from former a partner who is in arrears.
The Passaic County Sheriff's Office told CNN that an arrest warrant was issued for Quezada in 2009. He has five children ages 5-23 and owes a total of $29,000 in back child support, spokesman William Maer said. It is not clear which children the payments are for. Quezada's son, Casiano, said his father has hired an attorney and is "working through it."
By owing $29,000, Quezada is just $1,000 away from being part of the top 11 percent of arrears delinquents in child support owed, according to information gathered from the Department of Health and Human Services.
---