Let us not praise our children: Well-intentioned puffery won't boost school success
(Read article summary)
Dumping praise on a student or your child with the intention of bolstering their scholastic success may actually hinder it. More and more studies are determining that children grow suspicious of general praise or develop an unhealthy fear of failure.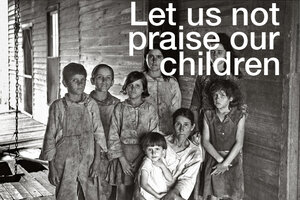 Walker Evans/Wiki commons
My name is Judy and I am a praise junkie. That is, I blanket my children with lavish compliments like, "You are the smartest, you are the best, you are second to none." It turns out that I haven't been doing my kids any favors with these endearments. In fact, there's a raft of research over the past couple of decades that shows that unfocused praising of children puts a significant dent in their self-esteem.
Carol Dweck, a psychologist at Stanford University, has been at the vanguard of studies about kids and praise. Dweck's research grew out of a pattern that has been tracked for over 20 years — gifted students (those who score in the top 10 percent on aptitude tests) were very unsure of their academic abilities. This perceived lack of competence caused them to lower their standards for success and to underestimate the importance of putting in effort towards a goal.
But I'm not the only parent out there praising away. According to a survey conducted by Columbia University, 85 percent of American parents think it's crucial to tell their kids how smart they are. My highly unscientific poll puts the number of fellow parental praise junkies out there at closer to 100 percent.
Why the constant praising and what do we do about it? I suppose we praise to reassure our kids and ourselves that they are not only wonderful, but also resilient — able to handle any challenge that comes their way. But in truth constant assurance has the opposite effect. The proof is on the ground. Ten years ago Dweck sent four research assistants into fifth-grade classrooms throughout New York City. The assistants administered a series of puzzles to two control groups randomly divided. The children in one group were praised for their intelligence as in "You must be smart at this." The other group was lauded for their efforts as in, "You must have worked really hard."
In the next round, the two groups were asked to choose between a difficult or easy test. The results were astounding. Ninety percent of the children who were praised for their efforts chose the harder test. The majority of kids praised for their intelligence chose the easier test. Commending a kid for his intelligence not only made him shy away from exerting effort, it also made him risk-averse.
---