Mike Rice fired by Rutgers, Pernetti: Parents, tell kids what bad coaching is
(Read article summary)
Rutgers men's basketball coach Mike Rice was fired by athletic director Tim Pernetti after Mr. Rice's practice behavior was exposed on a video released by ESPN. The video came from a former team aide, not a player, which begs the question: Do your kids, tweens, and teens know how far a coach can go?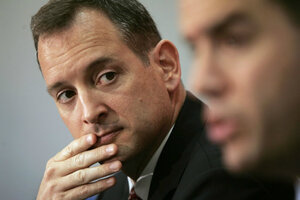 Rich Schultz/Associated Press
When Rutgers men's basketball coach Mike Rice made the decision to be a violent, verbally abusive bully to his players, he got fired and in doing so blew a big hole in the wall of coaching to let some badly needed sunshine in on behavior our kids think they need to suffer in silence. Parents are ready to put coaches in the same glass housing we keep our teachers in and by doing so, make them stop throwing stones at our kids.
ESPN released a now viral video showing Mr. Rice at practice throwing one Class-A tantrum after another: shoving, grabbing, and kicking players, hurling balls at their heads, using profanity, and demeaning players' sexuality with homophobic slurs.
At first, according to ESPN, Rutgers athletic director Tim Pernetti suspended the coach for three games and fined him $50,000 after he first saw the video in November. He said he chose suspension rather than termination even though both options were on the table. Today the coach was fired and others in the profession are openly tagging the coach as a bully.
Eric Murdock, who worked with Rice told ESPN, "What this guy did the last two years is criminal -- it was criminal." During the two years he worked for Rice, Murdock said he and the assistant coaches repeatedly urged the coach to try to control his anger with players. "Bullying players made him feel better," Murdock said. "If he made a kid feel miserable, he was able to sleep at night better, even though the kid is going the other way and he's not going to be as productive.… He has real anger-management issues. He can't control his temper.… I can't believe that anywhere else in the country it is worse than this -- it's the absolute worst."
---