Citizen science: How families can contribute to real science
(Read article summary)
Citizen science has led to a number of discoveries throughout history. Many agencies need help that families -– yes kids too! – can provide, from measuring precipitation to charting night skies to recording first bloom.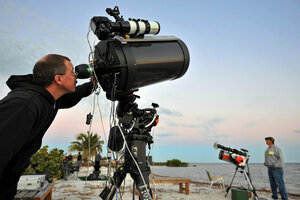 Rob O'Neal/Associated Press
What do early radar images of hurricanes, handwritten ship logs, and backyard rain gauges all have in common? More than you might think.
Each of these types of meteorological records represents one small piece of our global climate history. They all hold clues as to how our climate might be (or might not be) changing. And each one offers an opportunity for average citizens of all ages to make meaningful contributions to science.
For many kids, science class means slogging through textbooks, memorizing the discoveries of others, and performing pretested experiments that come with preconceived answers. On the other hand, citizen science projects can offer kids the chance to not just study science but also actually participate in and make a real contribution to science outside the constraints of the classroom.
Citizen science is certainly not new. The Audubon Society has called on amateur birders to conduct its annual Christmas Bird Count since 1900. For centuries, backyard astronomers have recorded their observations of the night sky, helping astronomers map the galaxy.
Today, many scientists are calling on everyday citizens to help understand the scientific issue of the century, global climate change.
When trying to develop a solid picture of the current climate, climatologists have to look at not just large weather patterns, but at individual microclimates. As the old saying goes, "Rain doesn't fall the same on all." Farmers and skiers can testify that hail and snow do not either. Piecing together detailed precipitation maps takes an extensive array of data, far beyond the existing weather monitoring infrastructure. So, rain networks around the country have turned to everyday citizens, families, and classrooms to collect and report rainfall measurements.
The Community Collaborative Rain, Hail and Snow Network, (CoCoRaHS) coordinates local volunteer groups in every state and parts of Canada with sponsorship from the National Oceanographic and Atmospheric Administration (NOAA) and the National Science Foundation (NSF).
---