Glenn Beck MSNBC promo: The pundit blows hot air through the village
(Read article summary)
Glenn Beck tore into MSNBC's promo featuring Melissa Harris-Perry saying how she felt the US public should pay more attention to public education. But even while US students lag behind their overseas peers, Mr. Beck took Ms. Harris-Perry's criticism of Americans as sacrilege.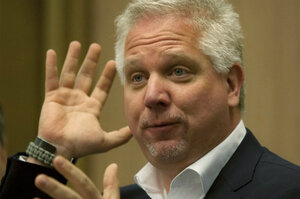 Sebastian Scheiner/Associated Press
Media personality Glenn Beck spent the better part of an hour attacking a MSNBC commercial for its suggestion that as a society we are responsible, in a broad way, for parenting our community's children via providing a top notch public education. However, since a Harvard University study revealed that America has to run to catch up to Latvia, Chile, and Brazil which are all making educational gains at three times the rate of US students, perhaps exploding all over the ad only provides smoke, when what we need are mirrors held up to society.
The complete quote in the MSNBC promo where anchor Melissa Harris-Perry talks about children's education is: "We have never invested as much in public education as we should have because we have always had kind of a private notion of children, your kid is yours and totally your responsibility. We haven't had a very collective notion, of these are our children. So part of it is we have to kind of break through our kind of private idea that kids belong to their parents, or kids belong to their families, and recognize that kids belong to whole communities. Once it's everybody's responsibility and not just the household's, then we begin making better investments."
As someone who volunteers twice weekly to help teach children, who are not my own, to play chess to improve critical thinking and standardized test scores at a community center and a public library without a cent of funding, I have a very different take on this commercial than a this "political shock jock."
---