Talking to my son about the Boston Marathon: A mom reflects
(Read article summary)
The Nichols had to tell their 11-year-old son about the Boston Marathon bombings — he'd been upset when they hid the Newtown, Conn. headlines from in him December. Now, a day after the Boston Marathon, Martha Nichols mulls over their decision.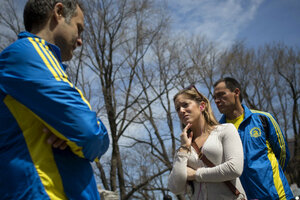 Shannon Stapleton/Reuters
Sometimes, I hate this world. Or not the world, but its dangers and all that can hurt my son. On April 15, when bombs tore apart the finish line of the Boston Marathon, one of those dangerous tentacles got past me. I could see the green scales tightening around my child's neck, the joyous light draining from his 11-year-old eyes.
This morning, he and my husband and I listened to the news. My son said he was glad we'd told him — even when we showed him the "Marathon terror" banner on the front page of the Boston Globe, complete with graphic photo of a victim, rescue workers, a sidewalk that looked spray-painted red. He'd been furious when we hid the headlines about Newtown after it happened. He'd insisted last December that he wanted to know.
But I'm still wondering if I told him too much about the Boston bombing, if it was wrong for him to find out just as I was finding out, my response unprocessed and far from an ultra-rational "teachable moment." Sometimes, ignorance really is bliss. It is our Garden, the one we walk through every day with a child.

Before we knew, I picked up my son at his vacation camp. No school this week. Patriot's Day, the Marathon, the streets around us sweetly and strangely empty. We strolled home through our Cambridge neighborhood, carrying the candles he'd made that afternoon. It was brisk and sunny, daffodils and hyacinths bursting free along the curbs.
---