Time cover of terrified child at Boston Marathon is disturbing media trend
(Read article summary)
Time's tablet-only Boston Marathon cover shows a bloodied and terrified child in the arms of a police officer. The controversy sparked is not unfamiliar to modern Time covers that have used children in provocative ways.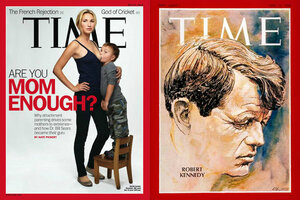 TIME
In the '60s Louis Glanzman, now 91, known for his illustrations in the Pippi Longstocking books, painted more than 80 covers for Time magazine. But, now, he and his wife Fran have given up on the publication because of its cover choices which they consider "sad and unfortunate." While Mr. Glanzman's covers are in the Smithsonian's National Portrait Gallery, current covers are causing an outcry from readers for placing children in provocative, horrific, or sensational settings.
"Lou always looks at those new covers for Time and says, 'It's a new world and I'm not part of it,'" said his wife Fran in a phone interview from their home in Medford, N.J. She explained that Mr. Glanzman is very ill and in bed, "The family is very worried about him right now." Their family includes four adult daughters and 10 grandchildren.
This week Time's choice of photo has sparked controversy with the cover shot of a terrified little boy, one side of his head drenched in blood, as he is whisked from the bombing by a first responder. The headline reads "Tragedy in Boston." As The Huffington Post aptly pointed out, "people recoil at the sight of children in peril, and some will inevitably wonder why the magazine chose the picture it did."
---