Crime's fallout: At-risk kids play games inside on sunny days, blinds shut
(Read article summary)
Crime has a ripple effect: For students scarred by neighborhood violence, learning a new game can change much.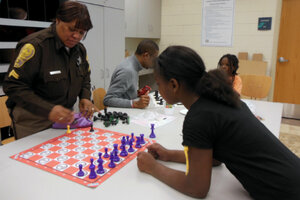 Lisa Suhay
In Norfolk, Va., Wednesdays are Chess Day and kids come to play in a room where the blinds are closed, not to keep the glare of the Spring sunshine off the chessboards, but to help kids concentrate on the carnage taking place on the 64-squares of the board rather than in their lives. There are kids growing up afraid to sit by an uncovered window because they fear a bullet or a person could come through it to hurt them. That's the life strategy session we need to have as the definition of "at-risk child" narrows to the most literal terms in modern society today.
"Why are the blinds closed?" I wondered aloud three years ago, the first time I walked into the big art room where we run free learn-and-play chess sessions open to all as part of the Norfolk Initiative for Chess Excellence (NICE) in the new Lamberts Point Community Center. This is a gorgeous center right next to a major state university and planted between city's "old neighborhood" and university area community. Kids who come to the center are mainly from the "old neighborhood" which has many single-parent homes subsisting below the poverty line.
These kids kept closing the blinds no matter how many times the staff opened them. We all figured it was because the sun was strong and the room got hot.
However, one cloudy day I walked over to open the blinds and a boy, age 6, threw a chess piece at me yelling, "Don't! Somebody could shoot you!"
---