Strapless dresses banned: The ugly truth about getting your pretty on
(Read article summary)
Strapless dresses were banned at a Readington, N.J. middle school dance causing a community debate. A mom of four boys has some advice: Provocative dress may actually scare boys away.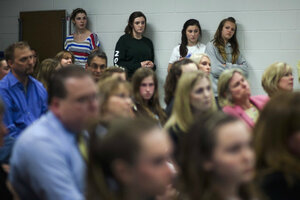 Eduardo Munoz/Reuters
While moms of some girls in Readington, N.J. are furious over a newly instituted ban on strapless dresses at an upcoming eighth-grade dance, moms of boys there are probably reading about it in the paper and learning that there is a dance at all. The truth, according to my sons, is while girls primp, paint, and push-up into strapless dresses to attract boys, the effort is usually more intimidating and counter-productive than a turn on.
My son Avery, 14 and in grade 8, read the Readington story online and responded, "Seriously? We really don't care unless what they're wearing is embarrassing. If they're like not wearing very much, like skimpy stuff, we'd probably try and ignore them. It's just too weird and uncomfortable."
It never ceases to amaze me how much effort, money, and sanity I wasted all those pre-teen years as I followed the teachings of my mom, a New York fashion designer. Mom, I love you, but you had it all wrong. I can say this with some authority as the mother of four boys ages 9, 14, 17, and 19. Every day I get an education on how the entire female population is led astray in the name of fashionista commerce.
Yes, sure, boys notice girls who are blingy, stringy, and scantily clad, and may find them "distracting" in the classroom or on a dance floor, but the notion that those things will lead to a date is off-base at the middle school and even early high school levels. It's a strange and often conflicting set of behaviors boys exhibit where girls are concerned, and that's why we have to parent both sexes through the mutable laws of attraction.
My sons have always shrugged-off feminine wiles as "weird."
However, I will also admit my eldest, now 19, fell prey to the body image problem via scent sensitivity marketing done by Axe body cologne. We spent a miserable year fighting the manfume clouds. The younger boys ambushed the eldest two years ago and actually tried to hose him down to rid him of the perfumed pestilence. For the record boys, chicks don't dig that. You can just shower and use deodorant and we're fine with that. Nobody's stripping down to a bikini to chase you when you are the PigPen of perfume.
---