Dolls look better without makeup; now if only we could buy them that way
(Read article summary)
What does a doll look like before she gets all, well, dolled up? Sickly, according to an image circulated around the Internet earlier in April. But artist Nickolay Lamm did his own investigation and found dolls without makeup are actually rather pretty.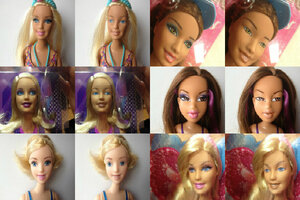 Courtesy of Nickolay Lamm/MyVoucherCodes.co.uk
There's an image powdered across the Internet of a Barbie head without makeup. Below her eyes are swollen, fleshy bags. Her cheeks bloat outward. Her lips looks flat. It looks ugly. And when Pittsburgh-based artist Nickolay Lamm saw the photoshopped image, he thought it looked exaggerated as well.
"There's no way that Barbie looks that bad without makeup," Mr. Lamm says.
So he went to a nearby Target with a mission and an alibi. He was going to buy some Barbie dolls and conduct a "mini-investigation," published originally by MyVoucherCodes.co.uk, to see what they really looked like au naturel. If any Target employee, suspicious of lone 24-year-old man browsing the doll section, asked why he bought four Barbie dolls, he'd blame his sister (who doesn't exist).
Back home, he photographed the dolls — two Barbies, one Princess Disney, one Bratz — and then had a friend photoshop away the heavy eye-liner, spider-leg long eyelashes, and rich lipstick. And can you believe it? The dolls look healthy and beautiful without all that pigment fuss.
This actually worried Lamm at first because he figured the media wouldn't appreciate images of makeup-less dolls that didn't look malnourished, but he was wrong.
---