LEGO apologizes for catcalling: Hey babe, females aren't playthings!
(Read article summary)
LEGO apologizes for a licensee that sold stickers including a LEGO man catcalling, "Hey babe!" Even if the sticker is old, manufacturers have to be more vigilant to ensure their product is up to standards.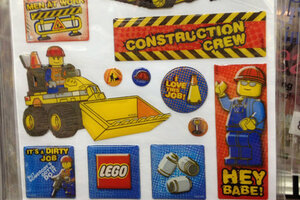 Josh Stearns/jcstearns.tumblr.com
One week we're reading about the outrage of Victoria's Secret marketing sexually suggestive memos on girls' bottoms and a short while later the news is all about LEGO toys building a sexist, degrading, catcalling vocabulary into the stickers for its toys. It makes me want to whistle at the next manufacturer headed to a marketing conference and shout, "Hey babe! Stop treating females as playthings."
ABC News reports that, Josh Stearns, father of two young sons living in western Massachusetts, posted photos of a set of LEGO stickers on his Tumblr account featuring a typical LEGO hard-hatted construction worker waving at an unseen passersby, shouting "Hey babe!"
As the mom of four sons who has spent the last 19 years stepping on the little blocks and prying mini men out of my vacuum, vents, and clothes dryer, I feel as if I'm banging my head against the LEGO brick wall. Didn't I just recently praise LEGO for girl-friendly sets? They blew it that fast?
Well, they didn't actually blow it that fast, because a closer look at the ABC story does show that the stickers in question were discontinued in 2010. According to ABC, Charlotte Simonsen, senior director at LEGOs corporate communications office in Denmark, e-mailed Mr. Stearns telling him the stickers had been licensed by a company called Creative Imagination, and had been discontinued in the summer of 2010. Creative Imagination stopped operations in December of 2012.
That doesn't let LEGO off the marketing hook. Instead, it is a teachable moment for any manufacturer hoping to continue to sell to parents: Bad decisions can haunt a product. The stickers may have been discontinued several years ago, but the product bearing them is still on shelves.
---