The end of school 'Whoosh Zone': Plan for how you'd like to look back
(Read article summary)
With the last day of school in sight, kids (and parents) start acting odd. Crankiness, restlessness, and nostalgia are all symptoms of the 'Whoosh Zone'. Prepare yourselves.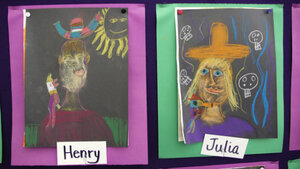 Todd Nelson
We're in the Whoosh Zone.
It's what I call the vertiginous final weeks of a school year when the number of exciting and challenging events seem to defy the laws of thermodynamics and Einsteinian physics as they relate to time, space, and motion. You wonder: How can all these things fit into the available space? In fact, it's kind of onomatopoeic. You can feel and hear the whoosh these days in the sunny playground times, and in the studios and classrooms. Yes, we have begun the wonderful glide down to summer on extended wings. It will all fit. It always does.
It fits better with forethought. Step back: What's really going on here, as parents, teachers, and children hurtle (or glide) towards summer? Are we in unfoldment mode, or crisis management? Do we have the analog view of where we are on an emotional, curricular, and cultural continuum?
Every school celebrates closure and transition in different ways. We are closing the books on projects and various academic studies; perhaps regressing a bit in terms of some social-emotional learning, but also consolidating the gains in other areas. We are fully "inhabiting" our new level, be it "first graderness" or parent of "first graderness." And even for the veteran teacher, each academic year culmination has its own unique flavor and texture. Or it should.
At my school, a wise kindergarten teacher is good about alerting parents to what they should expect. Annie sends an e-mail replete with coordinates of all kinds. She is talking to experienced parents — whose youngest child is coming through kindergarten — as well as initiates into the world of whoosh, going through it for the first time.
This week she wrote home the following:
---