Mermaids: Are they real? NOAA says 'no,' but Mom and Animal Planet say ...
(Read article summary)
Mermaids, for the mom who wrote the book on them, spark the most amazing questions from people who should know better. Still, Mom and Animal Planet want to stretch childhood just a little longer.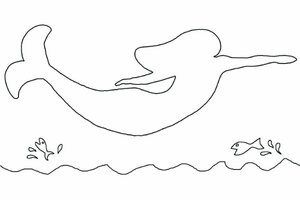 Sam Hundley
Ever since the first little mermaid sat on a rock to sing a scale, children have asked parents, "are mermaids real?"
Depending on our personal commitment to the maintenance of childhood innocence and the magic of TV, especially Animal Planet's Mermaids docu-tales (documentary fairytales) we can make childhood stretch just a bit longer. However, be careful what you wish for, lest you end up with adults who find themselves, like Peter Pan, unable to grow up and face the music of real science on sirens.
Given the ocean of Titanic news events we must all slog through daily, it's little wonder I – who literally wrote the book on Mermaids – meet so many adults as well as children who ask me, "Are mermaids really real?" Over the past 10 years of living in Norfolk, Virg. where I have written two children's books about merfolk and created a read and walk story trail from one larger-than-life-size mermaid sculpture to the next.
While I love science, I also have a household of men, four sons and a husband, who are all serious, logical, literal business 24-7. In response to that, I try to generate a little mommy magic and occasionally take a poke at science just to lighten things up for my sons and my sanity. Given the fact that science tends to flip-flop on everything from the value of fish oil in our diets to the shroud of Turin, I think it's OK to have a little fun at its expense every now and then with a mermaid tale or two.
Last night, Animal Planet followed-up its science fictional, but photorealistic, "Mermaids: the body found," with "Mermaids: The New Evidence." The new mer-mentary asks us to keep on believing that mermaids are among us, if only through the some very fishy video.
Last year when the first "documentary" came out in May, I was filling in as an editor at a local daily newspaper and had to call someone in a city office here for comment on a story about the how the broadcast was impacting tourism.
---