'We don't sell junk food', says McDonald's CEO to a 9-year-old girl. A whopper?
(Read article summary)
'We don't sell junk food,' McDonald's CEO Don Thompson told a nine-year-old girl. Saying 'We don't sell junk food' doesn't change the fact that many kids know healthy food from unhealthy food.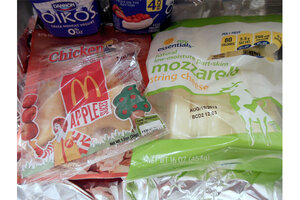 Lisa Suhay
A week ago it would have seemed impossible for corporate America to show a more bloated opinion of itself than the Abercrombie & Fitch CEO turning away customers larger than a size 10. However, McDonald's CEO Don Thompson had a super-sized misjudgment when he scolded a girl, age 9, telling her the whopper that his fast-food chain doesn't sell "junk food."
Whatever happened to "The customer's always right"?
Before we even get into the he-said, she-said of this story, I want to remind corporate America that while kids' brand loyalty to fast-food chains can be rented for toys, their grasp of reality is not for sale.
This is particularly true since parents, teachers, and even first lady Michelle Obama, have armed kids with enough truth about junk food to know healthy from unhealthy choices.
Mr. Thompson erred when he tried to convince an educated child that a Happy Meal isn't bad for her. Also, he should be told that it's hard to get most kids to eat soggy apple slices that taste more like the plastic bag they come in than nature's wholesome goodness, particularly when that apple is processed by being peeled and sliced into a "treat" wedged into the box full of warm, salty fries and a burger.
My fridge always has packets of those apples that I can't bring myself to waste, but which the kids and even I can't stomach. My son Quin was fascinated that even the squirrels wouldn't touch what he calls "UnHappy Apples."
Here's what happened at the McDonald's shareholders meeting last week that is causing all the fuss. According to Business Insider, last week the company's shareholders' meeting was attended by a 9-year-old girl named Hannah Robertson, whose mom is an activist for parents and kids working together to make healthier food choices.
Hannah helps her mom make videos on how to cook healthy foods in their Rainbow Kitchen. According to the website, which encourages kids and parents to partner in the kitchen, "kids need to eat five colors every day to be healthy: Red, Orange, Yellow, Green, and Blue-Purple. The different bright colors signify the different phytonutrients that each fruit or vegetable contains, therefore we use the rainbow colors as a guide to getting a wide range of phytonutrients and nutrients in your children's diet."
---