Smithfield sale to China casts a new light on your kid's ham sandwich
(Read article summary)
A Chinese pork producer is looking to buy Smithfield Foods, one of the largest producers of pork products in the US. Should the sale cause parents concern about China's food safety issues?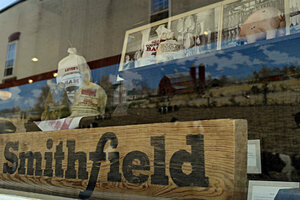 Amanda Lucier/The Virginia-Pilot, AP
Imagine a company from China, where food safety is a serious concern, were about to consume Pepsi Co., Dole, General Mills, Nestlé, Kraft or Oscar Mayer food producers. When the news broke here in Virginia that pork producer Smithfield Foods is just a hog's breath away from being sold to China's Shuanghui International, moms who fret over food safety standards as they pack ham sandwiches into lunch boxes, serve BLTs and pork roasts, like me, became concerned over the future of those choices.
Keira Lombardo, vice president of investor relations and corporate communications at Smithfield Foods, Inc., confirmed in an interview that the potential sale would also include Smithfield brands: Eckrich, Farmland, Armour, Cook's, Gwaltney, John Morrell, Kretschmar, Curley's, Carando, Margherita, Healthy Ones.
So the sale includes Armour hot dogs, "the dogs kids love to bite"? That definitely makes this sale a parenting concern at our house.
While the vast majority of food products that come from China are perfectly safe, pork specifically has been a health issue in China, making it vital for parents to keep a close watch on where their food comes from and who they are trusting with it's continued safe production.
Virginia Del. Bob Marshall, a Republican, agrees with that thought and criticized the proposed merger in a 13-paragraph letter sent May 31 to Smithfield President and CEO C. Larry Pope, according to The Virginian-Pilot.
---