How to make a bed in Norway
(Read article summary)
Making a bed in Norway is different than in America. The sheet sizes come in metric, not full, queen, or king, and it is the custom for couples, though they sleep on the same bed, to have their own sheets and duvet.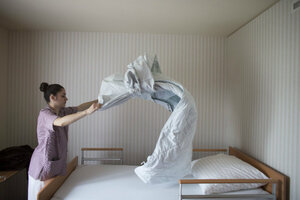 Reuters
There are some frustrations of life abroad that are hard to categorize.
Some of you may remember my blog post from a few months back where I announced my decision to make Oslo my home. I finally unpacked all of my boxes, threw some pictures on the walls and even bought a few plants. My husband and I made what we hope is our last epic trip to Ikea to, at last, replace our cardboard box night stands with ones that have actual drawers. It's nice to be able to put a book down without the risk of the lamp caving into the box.
And, after a year and a half of refusing to purchase towels and linens in Norway, instead lugging back extra suitcases from the US or demanding my mom to snail mail me pillow covers, I finally came to terms with the prices in Norway and headed to the shops to pick out a new duvet cover.
It took me two months and five trips to the store to get it right.
After a bit of browsing, I found a cover I liked. It was my third trip, the one I was hoping would result in the successful purchase of a purple floral cover for my bed. But it turned out that I had confused the Norwegian words for "bedsheet" and "duvet" and had been browsing sheets all along, so I had to start again in another section.
---