My teenage daughter refused to learn to drive, and she's not alone
(Read article summary)
The driver's license is an American rite of passage for 16-year olds, but not my daughter. She wanted nothing to do with a car at that age, and statistics show others at that age feel the same.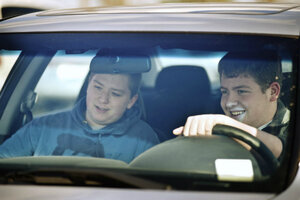 AP
Her learner's permit expired last year. There have been no road hours clocked in over a year and the classroom hours are a distant memory. The upshot is that I am still driving Anna around. True, I've had a respite while she's been away at college. But now she's back and the girl needs rides. Luckily, she's become very adept at bumming rides from her friends. Sometimes she'll do a very complicated automobile leapfrog to get from here to there. Sometimes it's more like ballet and it can be a thing of beauty to watch her arrange her transportation.
Parents far wiser than I have told me not to push the matter. She'll drive when she's ready. Two years ago Anna wrote an editorial in her high newspaper about why she refused to learn to drive. "Every time I turn the key in the ignition, my blood pressure spikes and my heart rate doubles," said my girl. "In the back of my mind, I know that I am driving a two-ton piece of weaponry. With one wrong move, I could end up hurting myself or the people around me."
My daughter declared war on driving.
In my day the quest to get a driver's license at 16 was an American rite of passage. But the more research I did, the more I learned that Anna's aversion to driving is part of a national trend. In a recent study conducted by the University of Michigan Transportation Research Institute, 46 percent of all 16 year-olds had a driver's license in 1983. By 2008 that number had dropped down to 31 percent. The study's principal investigator concluded that the Internet is a big reason for this drop in the drive to drive.
---