Parenting the littlest media users: A study shows what concerns new parents
(Read article summary)
Are parents concerned about their wee ones becoming addicted to new media? Meh, not really. Nor are they saying media use is a source of conflict, a new study says.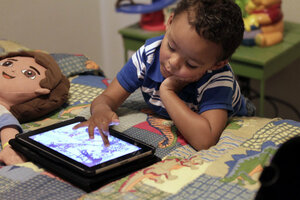 AP
Increasingly, digital media are just part of the rhythm of everyday US family life, a significant new study of parents of young children indicates. The study, "Parenting in the Age of Digital Technology," conducted by Northwestern University's Center on Media & Human Development, surveyed a nationally representative sample of more than 2,300 parents of children 8 and under about how media – both "traditional" and digital – inform and fit into their everyday lives and parenting. The authors found that "78% report that their children's media use is not a source of family conflict, and 59% said they aren't concerned their kids will become addicted to new media," according to US News & World Report.
What's most on parents' minds (Source: the "Parenting in the Age of Digital Technology" report).
What does concern those parents is the impact of lots of screen time on kids' health – "the negative impact screen time has on kids' physical activity levels. More than 60% said video games result in less movement by their children, with similar proportions saying the same about TV, computers and mobile devices," US News reports. The authors themselves wrote that parents "are more likely to find a positive than negative effect of media and technology on many of their children's academic skills."
Family media use very individual
---