Is my child a quitter? Why you shouldn't jump to conclusions
(Read article summary)
Trying new things is what childhood — even adolescence and adulthood — is about. If your child tries many new activities, not all of them will click. Are they a quitter? Or simply not interested?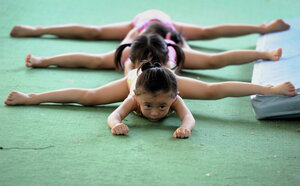 AP
How many times have you signed your child up for swimming, soccer, gymnastics, violin or piano lessons, camp only to hear, "I don't want to go"? It's hard not to be furious – "But you said this is what you wanted" – especially when money is involved. Sometimes your child has been involved with the team or the lessons and says, "I want to quit."
There's no doubt that parents have hopes and expectations wrapped up in their child's learning experiences. And what of the parent who never got the opportunity for anything extracurricular and is proud to be able to afford these opportunities for his child? Or the parent whose childhood was formed by her camp experiences, yet her child stubbornly refuses to go to camp?
Fears pop quickly to the surface: "She's a quitter." "He never can commit to anything." "What will her boss do when she decides one morning she doesn't want to go to work?" "He just gives up." Those fears lead us to all kinds of bribery and manipulation to get our kids to do what we want, what we think is best, never realizing how powerful our own agendas are.
"How far should I push and when do I let it go? Don't I have to set high expectations?"
"I can't let it go because he's missing this incredible opportunity."
"She's being an unappreciative brat. Everything has to be her way. She has no consideration for what we have gone through to make this happen."
It's hard to let go.
The truth is that kids may want to join something, and if it doesn't turn out the way they wanted, they will want to quit. Wouldn't you? We jump to the "quitter" conclusion way too quickly and decide that our child will never follow thru on anything.
Do you remember being pressured to do something you didn't want to do? Did you ever think something was a great idea and then changed your mind? Of course you did. That didn't make you a quitter.
Youth is about taking advantage of opportunities to try out all kinds of different things. Most children don't know where their passions lie for many years to come. If a child hits on an activity that is of great interest she will stick to it; but if she tries something that isn't what she wanted, she will want to stop.
---