Sibling bullying: How to be sure normal tangles are not actually damaging
(Read article summary)
Sibling bullying, it turns out, is not something to be shrugged off. Sibling bullying, more aggressive than a simple rivalry, has negative impacts for both the victim and bully, a new study says. How can parents keep the sibling peace?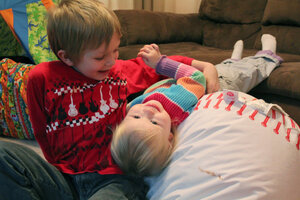 AP Photo/Grand Haven Tribune, Krystle Wagner
There's a common parental refrain, "If you're not bleeding, I don't want to hear it! Figure out how to work it out!"
Siblings fight. It's part of how kids learn to resolve conflict. Parents expect it, shrug it off, and tell their kids that, one day, they will be best friends.
---