Kids' online privacy rules take effect: What's at stake
(Read article summary)
Kids' online privacy rules get tougher today. But parents should still be aware of the ways corporate marketing efforts can target kids with everything from alcohol, tobacco, and violent video games to the more insidious micropayments that will sap your bank account.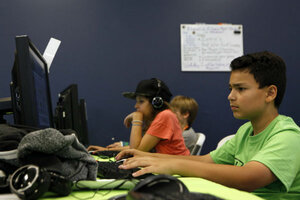 Jaime Henry-White/AP
Tougher federal rules about how advertisers and marketers can track and target kids online take effect today, under an update of the 1998 Children's Online Privacy Protection Act, or COPPA.
As data collection and analysis develops from a crude art into a finely honed science, the ability to put a product in front of the right young eyes at the right time has gotten increasingly acute, and the pressure for a revision increasingly intense.
Particularly under the gun of the new regulations: "behavioral advertising" that tracks children based on browser history, geo-location campaigns that market based on where a child lives, and re-targeted ads that pursue children from site to site once they've engaged with the campaign.
What precisely is at stake here? Actually, a great deal – the nature of corporate marketing is to work to the edge of the rules in order to sell the most aggressively and competitively to the advantage of shareholders, a design that results in all kinds of shenanigans when left unregulated.
And when you peel back the wrapper of online and TV content and look at some of things that have been marketed to children over the years, it's both chilling and illuminating.
---