California inmate sterilizations report recalls a dark history
(Read article summary)
Almost 150 female California inmates were sterilized between 2006 and 2010, according to an investigation by the Center for Investigative Reporting. The report recalls a dark history of eugenic thought in the US.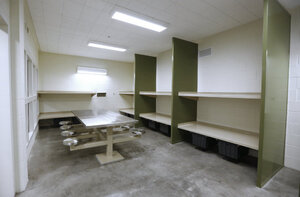 AP/Rich Pedroncelli
A report detailing the controversial sterilization of nearly 150 female inmates in California from 2006 to 2010 has touched off intense controversy. The degree to which the procedures were medically necessary and involved freely given, well–informed consent are both active points of contention. But regardless of the facts, the act of sterilizing women prisoners inevitably provokes comment – and argument.
As it stands, the story goes to the heart not just of the modern American penchant for aggressive incarceration, but also to what it means to be human.
The sterilizations seem to indicate that the battle over womens' bodies has been taken into a new arena. As the debate over abortion rages from coast to coast and state to state (Wisconsin Governor Scott Walker just signed into law an act that requires women seeking abortions to undergo an ultrasound), the degree to which reproductive rights are actually "rights" per se is wavering.
The story also raises the profoundly important and often overlooked issue of prisoner dehumanization. America's penal system once struggled to balance rehabilitation, containment and punishment as objectives; fearing being seen as "soft on crime," many politicians in recent years have emphasized punishment to the near–exclusion of education and other rehabilitative goals. In California in particular, the shift has been accelerated by an independent, "tough on crime" prisoner guards' union that has managed to turn a high incarceration rate into thousands of well–paid jobs (and dues–paying members).
---