Royal baby watch: Related to Jay-Z and Beyonce's baby? Teetotaling gynecologist?
(Read article summary)
Royal baby watch revs up as the media looks for every angle of the impending birth of Kate Middleton and Prince William's first child. The spotlight wants that baby, but until the birth, it will shine on everyone remotely connected, from the gynecologist to celebritites.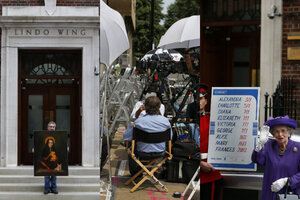 AP
The royal baby watch is nearing the end, but the atmosphere around the hospital where Kate Middleton plans to give birth to her child is full of publicity hogs and rumor.
A prankster posed as Queen Elizabeth July 3 and appeared alongside a fake British Guardsman in front of weary photographers who have been stationed outside St. Mary's Hospital in London for more than a week. The impostor was clearly not the Queen, but photographers snapped a few photos when the guardsman held up a sign displaying the betting odds for the royal baby's name. The pair was taken away by police.
A staffer from the British parenting magazine Mother & Baby pitched a one-person tent with an image of the British flag on top and handed out free copies of the publication on July 4. An artist posed with a painting of Kate Middleton on July 2 and of a naked President Barack Obama the next day, NBC News reported.
For everyone seeking attention, some felt the media (at least 60 photographers were counted) should do something more productive with their time. An elderly woman screamed at a photographer, "Why don't you get a real ******* job?," according to NBC News.
The royal gynecologist, Marcus Setchell, is rumored to be refusing alcohol for the entire month so he has not even a brief shake in his hands come game time, People reports.
Kate Middleton is apparently practicing yoga to help her deal with the final days of her pregnancy, the Daily Mail Online reported.
---