Teen sexual harassment: What you can do about it in your daughter's school
(Read article summary)
Teen sexual harassment is part of everyday life in American middle school and high school, experienced by almost half of students. Here are actions you can take to empower yourself and your daughter. The first in a series on the topic.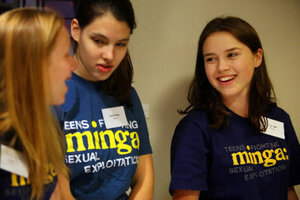 Melanie Stetson Freeman/The Christian Science Monitor
"We learned pretty quickly to stay away from that particular stairwell."
As we sat with a group of six female high school students from an affluent community, they shared their freshman year experiences with us: "Ten or so senior boys would line up at the stair balcony during class changes – calling girl's names, trying to look down their shirts, and even spitting on some girls – which was disgusting."
Although school administrators were aware of the problem and sometimes even went to the area where it occurred, nothing changed. "A teacher might just tell them to quiet down, but that was it."
"It was scary and intimidating…. We just did our best to avoid going to classes that way."
Some facts on sexual harassment
The research confirms what these young women told us during that recent What's Your Brave interview circle. According to studies[i], sexual harassment is part of everyday life in middle and high schools and is experienced by almost half of students. (More girls than boys, but boys account for 40 percent of that number. Non-gender conforming adolescents are particularly vulnerable to harassment).
Examples of harassment include:
Verbal harassment (unwelcome sexual comments, jokes, or gestures) make up a majority of the incidents.
Physical harassment also happens regularly – touching girls' breasts, a boy rubbing his penis against a girl's buttocks, etc.
Hallway "gauntlets" similar to the one articulated above
Sexual harassment by text, e-mail, Facebook, or other electronic means such as using derogatory language to spread a sexual rumor about a girl.
---