Teen sexual harrassment: Starting a dialog with your daughter
(Read article summary)
Teen sexual harrassment tips for talking to your daughter. Feel awkward, but be brave and talk about it, anyway.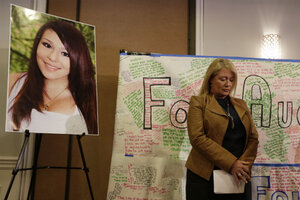 AP Photo/Eric Risberg
Recently I attended a fundraiser for the Boston Area Rape Crisis Center (BARCC). The event was held in a residential home in an affluent, highly-educated community in the 'burbs. The conversation started politely enough with easy questions about the size of the organization and how long it's been in business.
In the wake of Steubenville (the rape in Ohio of a teenaged girl by her peers, who posted it on social media) and too many similar heinous stories like it, it didn't take too long before parents jumped right into the heart of what was on their mind – how we can ensure my daughter is safe, when she walks out the door for school or to go to a friend's house or on a date or attends a party. And how exactly do we talk to our kids about sexual harassment, assault and rape.
What was clear that night is that parents deeply want to have these conversations with their daughter, but are confused (or…even a little clueless) as to how to traverse the complexities of this topic as their little ones become middle school and high school preteen and teens.
As one parent said to me in a sidebar, "How can I have this conversation with my daughter. She often seems annoyed when I ask how her day was?"
A few days after the event, I met with a mom and a survivor and I learned a lot. (Thank you Sarah!) As it turns out, starting a conversation with our daughters doesn't have to be nearly as scary or complicated as we make it out to be. Here's a cheat sheet from Sarah and others to get you started:
This is not a conversation about sex. Melissa Gopnik, Director of BARCC said this to me last week and I loved it so much I want to say it again: "This is not a conversation about your kids having sex. Sexual harassment and violence is about kids getting hurt not having sex."
Don't blame the victim. Let's state the obvious right up front. The victim is not to blame. Ever. If a teen is the victim of harassment or sexual assault, here is a list of information that you don't need to know: what type of clothing she wears, what his sexual orientation is, whether she "flirts," if she engages in consensual sexual activity, if she drinks alcohol, etc. We have to all agree on this as a baseline to keep our daughters safe. Remember harassment and assault is not about having sex, it's wrong (and illegal) and is about kids getting hurt (sometimes devastatingly so). Period.
---