Road trip: If you rent a family an RV, they're going to buy one and go to SoCal
(Read article summary)
Laurie Toupin and her family rented an RV last year. Now, after going through RV withdrawals, they've purchased their own and are setting out for the West Coast.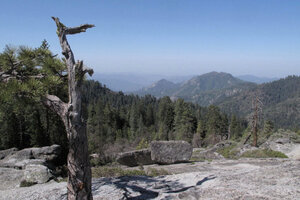 Tracie Cone/AP Photo/File
Never rent a recreational vehicle if you don't want to buy one.
Last year, my husband planned a mystery day for the kids and I. After a scavenger hunt at several shops and restaurants, we followed the clues and ended at an RV rental store. The next day, we loaded it up and traveled from our home in New Hampshire to Pennsylvania for a family reunion, then on to Niagara Falls.
After that trip, our three children never wanted to see our little popup again. They had been forever spoiled. In truth...so had my husband and I. I loved the freedom and independence of traveling with our home. (Turtles have it made!) We could go anywhere, anytime.
So we bought an RV. The first time I sat behind the wheel, a long forgotten feeling of wanderlust resurfaced.
Almost immediately, I began planning (and preparing the kids) for a cross-country trip.
I wanted this trip to be totally random and let the spirit move us as it would. But in order to ease the grandparents' worry, the kids' need for structure, and the logistics of arranging a time and place to meet my husband, some planning had to be done.
The kids came up with their own method. A large United States map hangs in our kitchen. Using their Nerf guns with suction cup-tipped ammunition, they shot at the map and kept tallies of the states they hit. It was simple – we'd visit the states our sharpshooters hit the most. My husband and I decided to intervene when Hawaii and Alaska tied for first.
---