Royal baby birth: A British mom talks about what it means to her children
(Read article summary)
The royal baby birth is check-out counter tabloid color for Americans; but for the British, it can hold deep emotion. One mom talks about her own evolution: from the knight in shining armor sensibilities of early childhood, to rebellious anti-monarchy diatribes as a teen, to the sense of national unity her kids witness with a new generation of royals.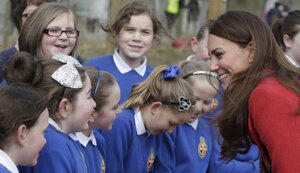 AP Photo/POOL
As Kate Middleton and Prince William become parents, I wonder if my own two young girls will share the range of feelings about the royal family that I've traveled as a Briton. Mine is hardly an unusual emotional evolution in our society – from the fairy tale romance of the knight in shining armor, to the rejection of tradition as one tries to assert one's independence, to a growing fondness for the national unity these individuals spark in us.
One of my earliest memories of the royals came in the summer of 1980, when I was 6 years old. I remember the competition clearly: design a birthday card to celebrate the Queen Mother's 80th birthday. I was a runner up and won a "Lion" chocolate bar which for any child was reward enough. In all honesty, the birthday of the Queen Mother hadn't meant much to me, I was just excited to make a card and enter a competition.
As our school was in Ascot, we would walk in procession out to the route the royal family took each year to Royal Ascot. Not only was it great fun missing lessons and cheering as the members of the royal household passed by, but we got to see them close up! It was something I looked forward to each year.
When Lady Diana Spencer got engaged to the Prince of Wales there was a throng of activity from the press. It fed our imaginations and we looked forward to all the pomp and circumstance the "big" day would bring. Crowds lined the streets of London – many had camped out for days to ensure they got the best spot. The nation couldn't get enough of the magical moment. I remember mugs, tea towels, commemorative coins. In fact, I am sure that anything that had a surface area large enough to put a transfer on had something that captured the moment.
---