37 miles of 'Hola Lola': Memories of a family road trip
(Read article summary)
The family road trip has been the joy and undoing of many parents. With the long hours of driving coupled with children's short attention span, parents are extremely vulnerable.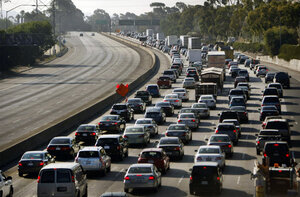 AP Photo/Los Angeles Times, Al Seib
I am a firm believer in the squabble stop. For the uninitiated, a squabble stop is a timeout due to squabbling in the car. And, in order to maintain its efficacy, it must happen immediately. Which is why, somewhere north of Thousand Oaks, Calif., on Interstate 5, we stopped. Not right in the midst of a lane, of course, but on the side of the freeway.
The infraction? My 10-year-old son, feeling drowsy, had rested his head on top of his seven-year-old sister's toy box. This heinous crime caused a great deal of shrieking, at which point I pulled over. I have a no fighting rule in the car. You think texting is a distraction? Try concentrating on the road with three screaming kids in the back. So we pulled over.
Where, you might ask, was my husband in all of this? Back home. That's right. I took our kids on a family road trip without Daddy. Lest you think that we have marital troubles, the road trip was our way to get from our home to overnight camp in northern California. My husband's job didn't allow for him to take off for that length of time, so I did what any good wife would do – I left him behind. Crazy, though, I am not. So I brought a mother's helper along to better my chances at child-wrangling.
There was a lot of driving on this trip – 514 miles. One day, we covered over 266 miles. It was 266 miles of are-we-there-yets? and I can't take it anymores. I think there was some lovely scenery too.
---