Video game addiction increases with ADHD, autism? Poppycock
(Read article summary)
A new study says boys who fall along the autism spectrum or who have ADHD may be more easily addicted to video games. But the study seems sensationalist to this blogger, whose son has Asperger's syndrome and a creative side inspired by video games.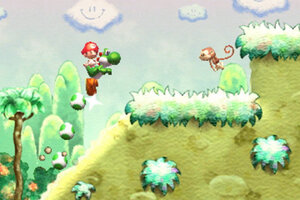 Nintendo/AP Photo
I would be worried about the study from the journal Pediatrics, which states that boys with autism or ADHD have a higher risk of developing an addiction to video games, if I hadn't witnessed a very positive side-effect of gaming in my own Asperger's child – he taps his creative side to make arts and crafts inspired by the video games he plays.
The study posed questions to 141 parents of boys about the child's video game usage. The children included 56 boys with autism, 44 with ADHD, and 41 with no such conditions. The study found:
Autistic boys played video games twice as long as non-autistic boys, 2.1 hours a day compared with 1.2 hours a day.
Boys with ADHD were also more likely to spend more time playing video games than other kids.
Boys with autism were also more likely to play role-playing games.
So that's "addiction?"
This isn't 'Breaking Bad' – it's a chubby little Italian plumber riding a little dragon, or an ongoing series of building block problems that force your child to think, often at speed, through numerous situations.
Doing that sort of critical thinking for two hours per day isn't what I would feel comfortable calling an "addiction." On Wednesdays and Saturdays, I call that chess, since that's how long I sit kids down to "game" in our community as a chess club volunteer.
Good can come from video games. Take my son who has Asperger's, for example.
"Mom, I found these videos by a guy called Goomzilla on how to make your own plushies of stuff in my games," said Quin, 9. He loves Mario and Minecraft games. "Will you help me sew them?"
The only thing I am worse at than gaming is sewing, but I pounced on his idea. I felt it would allow him to radiate some creativity from within that orderly, regimented mind of his.
---