Hannah Smith: What exactly is cyberbullying and how prevalent is it?
(Read article summary)
Hannah Smith committed suicide after being bullied relentlessly online. Doubtless, we'll be hearing a lot about how cyberbullying is the scourge of the tech generation, but that's not the whole story.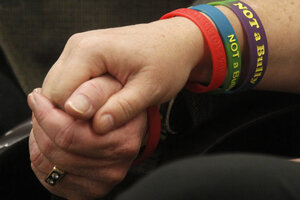 AP Photo/The Salt Lake Tribune, Al Hartmann
The UK has seen too much social cruelty recently, and tragedy as well, with the suicide of 14-year-old Hannah Smith. Though there has been plenty of news coverage and analysis already – linking Hannah's suicide to cruel comments in social site Ask.fm – a formal inquiry into what happened has only just begun, the BBC reported.
And suicide prevention experts on both sides of the Atlantic caution against citing any single factor, including cyberbullying, as the cause (here's potentially life-saving guidance from Good Samaritans in Britain and the American Foundation of Suicide Prevention).
So before much is known about this case, it might be helpful to consider what we do know about three things: 1) bullying, 2) the relationship between bullying and suicide, and 3) the nature of social media.
Bullying & cyberbullying
Bullying is a serious social problem, but not just among youth and it's more of a problem offline than online. It seems to happen wherever there's human interaction, and – because social media is such a new phenomenon to people everywhere – its presence and unprecedented visibility in digital spaces has brought a major international resurgence of concerns about bullying.
That's both good and bad – bad because the focus of public concern is more on social media (because it's the new, little understood piece of the equation) than on the behavior, and good because there's evidence that this time around we'll get much farther in fixing the problem. More on that in a minute, but first what we know about bullying and cyberbullying….
---