Oprah Winfrey to Switzerland (and parents): There's a wrong way to apologize
(Read article summary)
Oprah Winfrey was taken aback when Switzerland contacted her to apologize for comments a store clerk made to the TV star. We hear you Oprah – superfluous apologies are not to be encouraged.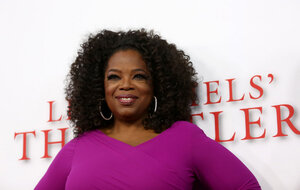 Matt Sayles/Invision/AP
While Paula Deen admitted in a court deposition that she had used the 'N-word' in the past, it was the series of ill-received public apologies that drove away fans and sponsors. She should have taken a lesson from Oprah Winfrey's recent advice to the nation of Switzerland on the etiquette of public mea culpas.
If you missed it, Oprah Winfrey recently told the story of the time a clerk at an upscale Zurich boutique refused to show her a $38,000 purse.
The clerk apparently did not recognize Ms. Winfrey and assumed she "could not afford it." The story caused a tiff and the nation of Switzerland apologized directly to Winfrey.
That's when Winfrey then took a moment to parent the world – she got us talking about when and how to make a proper apology.
"Swiss tourism officials and the boutique owner apologized for the incident last week, but Winfrey insists there's no need," the Associated Press reported.
Then the star set the world straight on when an apology is necessary and who should make it.
"It's not an indictment against the country or even that store," she continued. "It was just one person who didn't want to offer me the opportunity to see the bag. So no apologies necessary from the country of Switzerland. If somebody makes a mistake in the United States do we apologize in front of the whole country? No!"
Winfrey's right, plus she got apologies from all the wrong parties. The clerk was the one who needed to send Winfrey a very heartfelt note of regret with the hope it would get through her "people" to find her. (However, the clerk disagrees with Winfrey's version of events and says that she didn't do anything wrong.)
---