Disneyland and Legoland and beaches: Not a bad halfway point for a road trip
(Read article summary)
The Toupin family marks their halfway point with stops to Disneyland, Legoland, and the white sand beaches of Carlsbad, Calif.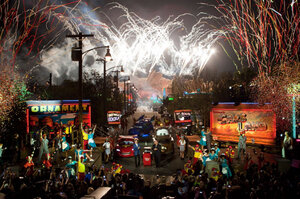 PR Newswire
[Editor's note: Laurie Toupin and her family are road tripping across America and sharing their experiences in a series of blogs. See the related links menu to the left for past installments.]
"We won! We won!" Jacob, 5, shouted as we pulled into the finish line after completing the "Cars"-themed Radiator Springs Racers ride at Disneyland – easily the most popular attraction in all of our family's road-tripping-through-California adventures combined.
And understandably so. Riders board shiny convertibles and begin cruising the red rocks surrounding Radiator Springs. Then we are prepped for the big race by Luigi and Doc, characters from Disney's "Cars". Suddenly we are screaming through the countryside beside another car.
Disney pays such close attention to detail that even the wait is an attraction. The line for Indiana Jones Adventure meanders through an underground cavern littered with skeletons, booby traps, lost treasure, and statues. The details were so elaborate that we began to think that the walk was the ride until we came upon the jeeps which took us deeper into the cavern. Here, Disney spared no expense.
The ride was so filled with detail, complete with fire, falling mummies and the famous boulder scene, that Maria, 11, demanded that a warning be placed on the ride saying, "Scary! Do not ride until you are 18."
---