LinkedIn's new college info for high schoolers an A+ resource if teens tap in
(Read article summary)
LinkedIn lowered the minimum age for registration to 14-years-old and added college information on the site's new University Pages. Professional networking is not just for grown ups any more.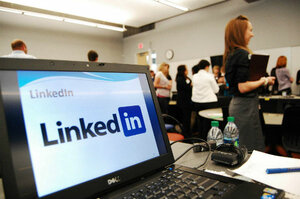 AP Photo/Minnesota Public Radio, Tim Post
LinkedIn has always been the social network site that was closest to the "original" (or pre-Web 2.0) idea of networking – the professional kind. So, since a lot of people start thinking about callings and careers before they're 18, it makes sense that LinkedIn should be open to high school students.
This week the social site announced it would open its doors to people 14-17. LinkedIn also announced its new University Pages, which are similar to its company pages. In addition to being able to research the kind of information anyone would find in college and university Web sites, teens, parents and other LinkedIn members will be able to learn about and connect with alumni. It'll now be "easy to quickly see how a school's alumni network overlaps with your personal friend network, opening opportunities for an online introduction to a friend of a friend," Time.com reports.
So for example, if a high school student at your house is a musician and wants "to find a great but affordable music conservatory with a good liberal arts program, LinkedIn's university pages can show you what percentage of a school's alumni are currently working as musicians, as writers, and as waiters," Jolie O'Dell at VentureBeat reports. "If I'd had this tool 15 years ago, I could have seen that my college was, in reality, a much better choice for music teachers than performers and nurses or biologists than writers."
"It's a depth of information about the outcomes of [for example] an NYU education that no number of surveys by the college's alumni office could match," Time adds. The depth comes from a blend of the sheer critical mass of members, the site's professional orientation, and the job recruiters it attracts.
---