Colonel Meow gets Guinness hairiest cat title, scaring a housekeeping mom
(Read article summary)
Colonel Meow, the feline Internet sensation, receives the Guinness nod as world's hairiest cat. Children will see a tiny living plush toy to cuddle, while parents looking into the jaws of housekeeping.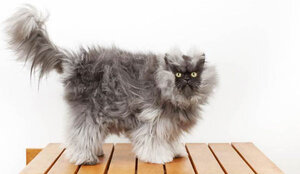 Guinness World Records
The world's furriest feline, Colonel Meow the Himalayan-Persian mix that is about to rock the Guinness Book of World Records for it's 9-inch hair is what all parents sees in their mind's eye when their child asks, "Can we get a kitty? Puuuuuleeeeeeease?"
The child is seeing a tiny living plush toy to cuddle, while the parent is looking into the jaws of housekeeping.
The Himalayan-Persian mix is being entered in the Guinness Book 2014 edition, due out Sept. 12. The 10-pound (4.5-kilogram) cat has his own website, Facebook page, and YouTube channel with more than 2 million views.
The Colonel is owned by Anne Marie Avey and Eric Rosario of Los Angeles, who say it takes both of them to brush the cat's fur three times a week.
Sorry kids, but that paragraph alone is gonna set animal shelters back in adoptions for months to come as parents think about how cute little animals grow into furry responsibilities that kids don't brush, feed, or care for.
This is a topic I know a little bit about because we have two cats, Bella and CatToo, and Wag the dog, a gynormous cadoodle (Lassie-style collie + full size poodle). Wag's a massive hairball that walks and sheds. Actually, when it comes to animal companions like Colonel Meow and Wag the dog, "shed" seems too passive a word. What they really do is offgas fur the way the Peanuts character Pigpen traveled in a cloud of perpetual funk.
I fall into maniacal cackling worthy of a Terry Pratchett witch every time another parent says, "Oh, it's half poodle so it doesn't shed, right?"
---