Pint-sized designer Jefferson Johnson develops 'Treehouse Wars' app
(Read article summary)
A 9-year-old has developed his own app, 'Treehouse Wars,' with the help of his entrepreneur father, a game-creation website, and crowdsourced funding. Are mobile apps the new 'Tinker Toys?'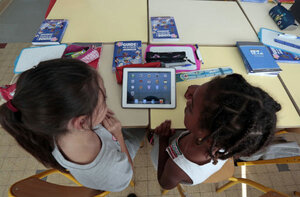 REUTERS/Eric Gaillard
Presidentially named Jefferson Johnson of Fairfax County, Va.. is only ten-years old, but his age didn't stop him from contributing a notable new little wrinkle to the fabric of modern digital life. At the age of nine, Johnson helped to create "Treehouse Wars," a spin on the extremely popular (and legitimately addicting) "Plants Vs. Zombies" game.
There's a popular perception that games and apps are the enemies of learning – they sap concentration, demand constant attention, offer worthless rewards, and generally displace more worthy endeavors for children, such as reading books, playing outside, and just about anything else that involves interfacing with the real world (or "meatspace," at it's sometimes called by those waist-deep in the Internet.)
There is, no doubt, truth to that. But like most tools and stories, games and apps are fully doubled edged - distractions, sure, but also potential vectors for education and potential models that children can play with and build in a manner similar to their parents and grandparents using Tinker Toys or Erector® Sets.
In short: What Johnson did made news because it's unusual – nine-year-olds don't typically build apps. But think about what he has likely learned throughout the process of putting together "Treehouse Wars":
- How to (realistically) conceive what an app would do and what it would look like
- What the various pieces of a computer game are (graphics, code, user interface, etc.) and how they're created and combined
- How to balance gameplay so that it's challenging enough to enjoy, but is not unwinnable
- How commercial systems like Apple's App Store function – not just as shelves consumers buy things from, but also as repositories for the creative energy of independent creators and companies
---