Bashing of 'baby apps' misses the point; context is everything
(Read article summary)
Kid apps purporting to be educational have come under fire from the Federal Trade Commission and the Campaign for a Commercial-Free Childhood, however as in so many childhood experiences, the inherent value of screen time depends heavily on parents' roles in providing context.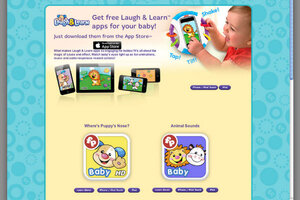 AP Photo
The topic of children and technology seems to be eating up more and more (often virtual) ink these days, and it's no wonder: as WiFi becomes viewed as a right equivalent to running water and kids increasingly communicate by text messages and status updates, it becomes necessary to try to understand what immersion in the digital environment does to their developing brains.
The question gets relevant fast. The Campaign for a Commercial-Free Childhood filed complaints with the Federal Trade Commission against educational (or "educational," if you're the CCFC) baby apps by Fischer-Price, and Open Solutions. The complaint argues that the apps promise, without suitable scientific support, to teach babies skills before they're taking their first steps.
The apps "prey on well-intentioned parents," argues the CCFC, which is calling for increased guidance for marketing apps as "educational" and wants Section 5 of the Federal Trade Commission Act – Unfair or Deceptive Acts or Practices enforcement against marketers of these apps for babies and very young children. The saber rattling has already begun to work – Open Solutions has withdrawn its educational claims, and CCFC has withdrawn its complaint.
---