New fall show MasterChef Junior unites boys, girls in kitchen
(Read article summary)
New fall show, MasterChef Junior, set to premier on FOX later this month, could begin to crack the rigid gender stereotypes that identify girls as cooks and boys as chefs.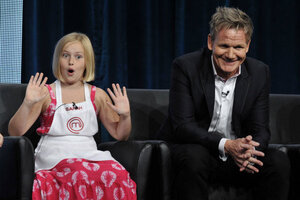 Chris Pizzello/Invision/AP/File
Despite the disturbing decision to have the foul-mouthed Chef Gordon Ramsay at the forefront, the new reality kid show MasterChef Junior, airing on FOX Sept. 27, has the opportunity to do something very positive by helping kids get past the myth that women dominate as cooks at home and while men are chefs in professional kitchens.
MasterChef Junior has a pretty even gender balance of 24 contestants ages eight to 13, giving kids the chance to demonstrate their culinary talents via a series of challenges and cook-offs similar to the grown-up version MasterChef.
MasterChef is co-hosted and co-produced by Gordon Ramsay, produced by Shine America and One Potato Two Potato the company responsible for MasterChef Junior which Ramsay will also host.
This is an important moment in television for the culinary arts as it may lead to the world seeing girls in the role of aspiring professional chef on the same level with boys. It's equally important that boys who are not interested in becoming chefs see that cooking is cooking no matter where you do it and it's cool for them to take culinary arts in high school.
According to the FOX website, judges include Ramsay, restaurateur and winemaker Joe Bastianich (Del Posto, Eataly) and acclaimed chef Graham Elliot (Graham Elliot, Graham Elliot Bistro).
"Together, the celebrated food experts will coach and encourage the promising hopefuls to cook like pros and teach them the tricks of the trade along the way," according to the FOX site.
Both boys and girls need to see "chef" as a gender-neutral career path.
In the realm of famous female chefs we are success starved with few popular examples such as Chef Cristeta Comerford, the first woman appointed White House head chef in 2005, and the only two woman to win Top Chef out of 10 seasons.
---