Location services, Foursquare promise danger, but also wonder
(Read article summary)
Location services and apps like Foursquare let kids 'check in' on social media in a fun way to create a digital diary, interact with friends, and learn about new places to visit. However, broadcasting kids' locations to the world comes with some inherent risks.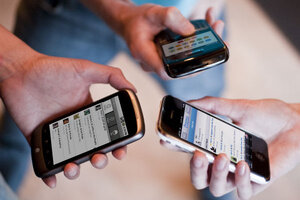 Foursquare Labs, Inc.
Thanks to technology, the difference between our lives and our maps is increasingly eroding – we not only know where we are, but the map (and the world) knows where we are, too.
Facebook and more specialized services like the popular Foursquare app provide a stream of information about what your friends are doing and where they are, but also give you the chance – or the obligation – to "check in" at a physical location and thereby broadcast where you are and what you're doing. A recent Pew Research Center survey found that "39% [of adult smartphone users] say they check into places on Facebook, 18% say they use Foursquare, and 14% say they use Google Plus, among other services."
Naturally some parents are less than thrilled with the new rise of "hey, world, track me down at this specific location" apps, but the reality for teens is more complicated than that, and such services actually offer young people a number of advantages that their parents and grandparents might have enjoyed as teens. But first, a few of the potential downsides to smartphone-based location-based services:
CONS
-- Stranger Danger
"Stranger danger" is listed here as a courtesy to public expectations, nothing more; the actual incidence rate of stranger abduction and assault is quite low, and the very nature of social media means that it's challenging to trace the movements of someone you don't actually know – you need to be virtual friends (or at least friends of friends) before you can begin following a trail of breadcrumbs toward your target.
-- Bullies
---