Super Hero Squad: Mom is recruiting her 9-month-old with Little People
(Read article summary)
The Super Hero Squad may sound like the boy equivalent of the Disney Princess syndrome, but this mom doesn't buy that. She did buy Little People superheroes as beginner models of strength, courage, and sacrifice for the greater good.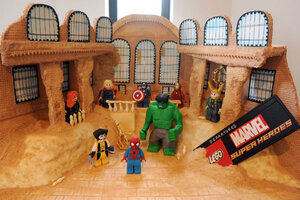 Diane Bondareff/Invision for Warner Bros. Interactive Entertainment/AP Images
Toy buying for my nine month-old has escalated beyond simple rattle and crinkle car seat toys into the wide world of smaller handheld toys that I will inevitably trip on in the the middle of the night on my way to the bathroom.
I've decided to upgrade his toy collection to include Little People, those pudgy, smiling plastic figures that fit like pegs into little toy tractors, buses, cars, and airplanes, and directly into my son's mouth.
I found Little People figures modeled after DC Super Heroes and Disney Princess characters, and chose the superhero toys immediately, avoiding the princess figures altogether. These are my son's first action figures (nevermind the fact that Little People look more fit to snuggle you into submission rather than resort to violent force), and I want to buy toys that encourage heroic, powerful characters.
Why did I automatically choose superheroes? As I watched him chew on Little Wonder Woman, I wondered – If we are careful to avoid pushing princess fantasies with fairytale endings to our daughters (protecting them from the "Disney Princess effect" discussed here), should we also watch telling our sons that they need super powers to save the world?
---