Mother-in-law in training: What variety will you be?
(Read article summary)
Mother-in-law in training: The transition from mother of the bride to mother-in-law comes with an ongoing choice: become a clueless but loving Aunt Clara or a critical and controlling Endora.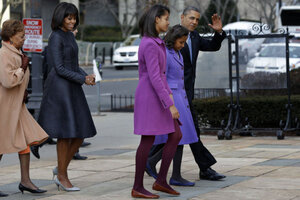 AP Photo/Jacquelyn Martin
My daughter, I'll call her Samantha, is getting married very soon. She is a professional violist and she is marrying a professional opera singer. I'll call him Darrin.
They're artists, and as such, they are in perpetual search of the next gig. For them, these are both exhilarating and challenging times. They make careful decisions about how to spend money but they are also in love. When car repairs ate up their savings last year and Samantha suggested they forego a Christmas tree, Darrin agreed, then surprised her with one anyway.
Recently, Samantha mentioned to me that Darrin thought they should be frugal over the holidays and spend Thanksgiving – her favorite family holiday – in Cleveland, where they live.
"It's tough to get away," she said to me.
"But it's your favorite holiday," I said. "I'll help."
Mothers of a bride can do that.
But I am to be a mother-in-law soon. When a wedding is as close as theirs is, mothers of the bride are in training to be mothers-in-law. If you are the mother of a bride and don't think so, I can tell you, the bride and groom think so.
"No," she said, "we have to do things like this on our own."
I can go a few ways with this.
I can be Aunt Clara: clueless, clumsy at times, but a kind and loving presence; always happy to spend any time I can with Samantha and Darrin because they are also kind and loving.
Or, I can be Endora: manipulative, divisive, critical, judgmental, controlling; blowing in to sit atop the bookcase in my elegant pajamas and point out what she's giving up, even as she is trying to tell me what he has given up for her on many occasions.
I could be Endora, and overlook that Samantha is considering Darrin's needs along with her own now, the way healthy witches do when they don't wish to abuse their power.
---