Jaden Smith Twitter rant: School-bashing sends kids dangerous message
(Read article summary)
A Jaden Smith Twitter rant condemns school as a 'tool to brainwash the youth': It transcends typical teen angst and left one youth mentor struggling to counter the celebrity role model's dangerous suggestion to drop out of school.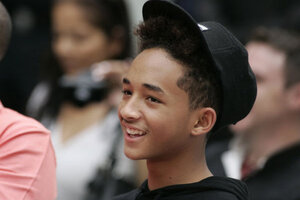 REUTERS/Jonathan Alcorn
Actor and aspiring singer Jaden Smith's condemnation of school via Twitter may sound like typical teen angst, but as a celebrity role model for youth his rant may have unwittingly perpetuated a poverty cycle which is often fueled by poor educational choices.
The widely influential Jaden, age 15, son to Will and Jada, brother to Willow, boyfriend to Kylie Jenner, and friend of Justin Bieber took to Twitter Sept. 12 to tell followers that schools serve the sole purpose of "brainwashing the youth."
Reading the stories about Jaden's rant popping up all over the Internet my heart sank, because for the past six years I have worked hard as a volunteer helping kids who hate school and feel disenfranchised by the system to re-connect with education via mentoring and chess. While I have never communicated directly with any of the Smiths, the Will and Jada Smith Foundation paid for the plane ticket that brought teen role model Pobo Efekoro of the film Brooklyn Castle here to Norfolk, Va. to empower kids to stay in school.
The most popular chess board we have in our program has a photo of the Smith family screen printed on it, and the kids race each other to get to play on it. The youngest and most easily influenced kids don't recognize Will or Jada in the photo so much as Jaden, the heartthrob and mecca of cool.
Even the littlest ones in our program, as young as five, know who Jaden is and say, "That's how I'm gonna be, like him."
Everything Jaden wears, the music he plays, and especially what he says via social media is instantly trending with the kids at the Lamberts Point Community Center here in Norfolk.
---