Anti-social texting study: New methods confirm old theory
(Read article summary)
A study examining teens' 'anti-social' text messages found that kids who 'talk the talk' also 'walk the walk.' While the study looks at the issue in a new way, the results are are nothing new, despite the dramatic headlines.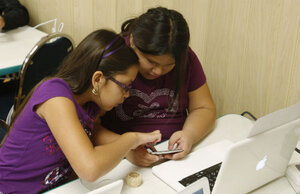 AP Photo/Sue Ogrocki, File
The methodology for study released this past week about teens and texting was new, but the findings don't seem to break much new ground – unless the news media had picked up on what the researchers didn't highlight. More on the reporting in a minute; first the study, published by researchers at University of Texas, Dallas, in the Journal of Abnormal Child Psychology.
Past studies of teens' "texting behaviors" relied on self-reporting. This one actually looked at the texts. The researchers gave 172 9th-graders (almost half and half boys and girls) around the country Blackberries and text-messaging service for a school year "with the understanding that their texts would be monitored," PsychCentral.com reports. "The participants were rated before and after the school year for rule breaking and aggressive behavior by parents, teachers and in self reports." At the end of the school year, four days of text messages per student were reviewed "for discussion of antisocial activities."
"Basically," said lead author Samuel Ehrenreich, they were trying to answer the question, "does talking about bad behavior predict bad behavior?" And what they found was that – although less than 2 percent of all the texts the researchers examined were anti-social – the anti-social texts "predicted increases" in "rule-breaking behavior" and "aggressive behavior."
---