Empty nesters: Claim your extra room
(Read article summary)
With college students tucked into their dorm rooms, empty nesters see new real estate in their old rooms, but kids may expect find their old bedroom intact. Head off conflict by discussing the transition together.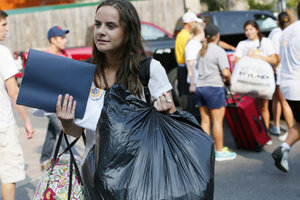 AP Photo/The Buffalo News, Derek Gee
What do you do with the room, when the kids go off to college? A decade ago, when my children were going off to college, I wrote an article entitled, "How to gain space when your child goes off to college – without alienating the previous occupant" for the San Francisco Chronicle. Now the children of several friends are going, and the discussion arose again. Here are my ideas.
I overheard a neighbor ask my newly graduated daughter, "Is your mother getting sad about you leaving for college?" Lauren's reply: "Nope, she's already decided on the new paint color for my room."
That wasn't entirely true. I hadn't decided yet. And I, like parents all over the country, have mixed feelings about this big transition.
For most families the departure of a youngster for college brings up all kinds of feelings, but it also presents some very practical issues. One is how to deal with the vacated room. There are moms and dads who, while mourning the passage, are thinking about the wonderful possibility of a home office, exercise room or guest room.
We already had a home office, so our goal was a guest room. The mother of one of Lauren's friends also wanted a guest room but planned few changes. That's because her daughter's room already looked like a guest room. My daughter's room, on the other hand, looks like a sari shop, inhabited by an origami expert who has traveled in Africa and collects bags of all kinds. So significant changes were in order.
My friend Mary Jo recalled how she consoled herself after the departure of her son by enjoying the luxury of a room where she could keep her sewing machine set up all the time.In contrast, another mother was feeling so sad about her daughter leaving that she hadn't even considered changing the room. Mourning in advance, she seemed to be planning the room as a sort of shrine to the departed college student.
I grew up in a little Midwestern town where we dealt with all emotional matters by doing chores. When someone passed away, we baked for the family; we shoveled the snow, mowed the lawn or raked the leaves. So it seemed only natural to address this emotional event with some practical action.
---