Religion apps put faith in the palm of your hand
(Read article summary)
Religion apps offer believers new ways to meditate, confess, study the Torah, and learn Bible stories, all in the palm of your hand.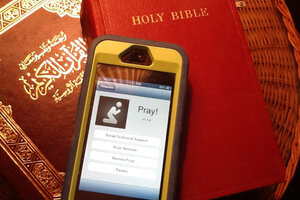 Staff photo
Believers with cell phones – have I got an app for you: The Book-of-Leviticus-put-to Fruit-Ninja-like graphics. No? How 'bout the Bible Shaker – shake your phone, and see what verse appears. Or, no, wait here's a Last Supper animation, leading you through the books of the New Testament. Gaming apps are perhaps the newest and fastest growing segment of the religious app market – melding the technology of gaming with the religious imagery of tradition to make faith, well, fun. And if slicing animals ninja-style seems hardly holy, some have faith that such apps serve to introduce children to their religions' icons and culture.
Gaming is but the newest addition to a marketplace of religion apps so large and fluid that experts can't even estimate how many are out there. Storytelling apps are also popular, especially with children, with varying degrees of interaction involved, according to Rachel Wagner, associate professor of religion at Ithaca College, and author of "Godwired: Religion, Ritual and Virtual Reality.
Social media apps published by specific congregations are emerging as religion app leaders as well, she explained. They feature denomination-specific content and often include streaming video of sermons, member comments, scriptures, worship, prayer materials and podcasts specifically packaged for a congregation's membership. In an atmosphere of anonymous app sponsorship and dubious content, these church-specific apps offer congregants some familiarity and quality control: I know this conforms to my faith tradition. I trust this.
---