Can Pope Francis heal the Catholic Church's wounds?
(Read article summary)
Pope Francis inherited a Catholic church fraught with scandal and internal squabbles. Can a new rhetoric of compassion and acceptance reignite the faithful's devotion to the papacy?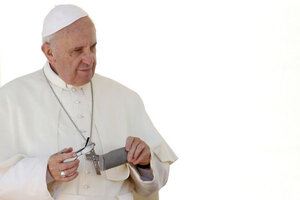 Giampiero Sposito/Reuters
"Freedom," as Janis Joplin so famously sang, is "just another word for nothing left to lose." I think sometimes her words could describe the job facing the new pope.
Troubles in the American Catholic Church alone – which the Economist estimates accounts for 60 percent of total church wealth – are crushing, and the litany is familiar: According to Pew's Religion and Public Life figures, church attendance among even strong Catholics dropped from 85 percent in 1974 to 53 percent last year. Only 27 percent of all Catholics attend weekly.
In the past eight years, eight of America's dioceses have gone bankrupt, and another is set to file soon, much of it due to the priest sexual abuse scandals that have cost the American church more than $3 billion. Many dioceses that stayed in the black are rapidly unloading assets to cover their bills.
Some 100 million, or one-third of Americans, including this reporter, have been baptized Catholic, yet America appears to be following Europe in becoming more secular. Evangelical churches now compete for once-reliably-Catholic Hispanics.
The faithful, observant, and not, seem to be forever squabbling – over women priests, gay priests, married priests, gay marriage, abortion rights or wrongs, capitalism, a return to Latin prayer, which politician should be denied communion. Etcetera. And, of course, the sexual abuse scandals left much of Catholic America without the heart to carry on as before. Even if they could, is anyone listening?
The concerns of the once-mighty bishops were all but ignored at the White House during the Obamacare calculations, and the old notion of keeping the "faithful" in line is almost unimaginable now. Today, people – if they want to be Catholic – are, and if they don't want to be – aren't. No authority figure asks them what teachings they observe or don't observe.
---