Chicken nuggets: You won't believe what's in them, again
(Read article summary)
Chicken nuggets are a kid staple, but a new study reveals that only half of each nugget contains actual meat. Will kids care?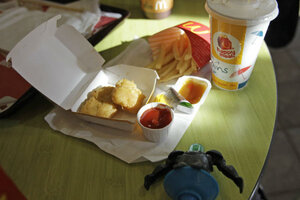 Eric Risberg/AP/File
If you want a really scary kid favorite for the Halloween table forget making Jell-O worms and pick up some fast food chicken nuggets; according to a study by Mississippi researchers, some brands contain enough creepy-crawly chicken parts to send chills up the parental spine.
For the record, we knew about this back in 2010 when parents first saw the viral photos of extruded pink goop known as MSP (mechanically separated poultry) which according to the USDA is made by mechanically separating eyes, organs, cartilage, and other scraps from carcasses and processing the sludge with salt and flavor additives into chicken nuggets kids love.
Yet researchers in Mississippi are still able to shock the world with the news that samples taken from two fast food chains in Jackson were 40-50 percent muscle, and the remainder was fat, cartilage, and pieces of bone. McDonald's switched to all white meat back in 2003.
So technically it is "chicken" just not any of the parts we would ever choose to serve to our children.
"What has happened is that some companies have chosen to use an artificial mixture of chicken parts rather than low-fat chicken white meat, batter it up and fry it, and still call it chicken," lead author Dr. Richard D. deShazo of the University of Mississippi Medical Center in Jackson, told Reuters Health.
---